Welcome to iTop VPN
VPN (Virtual private network) is a network technology that provides a secure and encrypted connection over a public network such as Internet for its users. It can be used as a secured tunnel for network connection, where user's Internet traffic is routed with encryption. iTop VPN also creates an encrypted connection between your Mac and one of our servers, so you can obtain an anonymous IP address located anywhere our servers are located. It allows you to stay private and secure to access the online content you want.
System Requirements
• Mac OS 10.15 or above
Download iTop VPN
Click here to download the latest iTop VPN for Mac.
Uninstall iTop VPN
Open iTop VPN > click iTop VPN on the top Menu Bar > click Uninstall in the dropdown list > click Yes button on the dialog box to uninstall iTop VPN.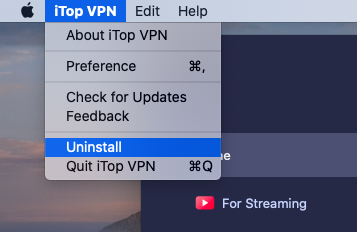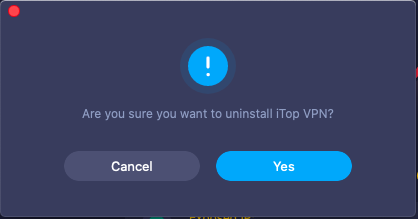 iTop VPN Accounts
Currently iTop VPN (for Mac) has 2 types of accounts: Free and VIP. While both accounts provide essential features as Connect Mode, Network Protocols, and Smart Location, there are still clear differences among different accounts.
Free
With limited 700MB data per day, Free account can only access to a subset of servers, and VIP servers are not available.
VIP
VIP account can enjoy all servers and is free from ads during the subscription period.
Sign In
Click Sign in with email and on the prompted window, enter your iTop VPN account email address and password to sign in.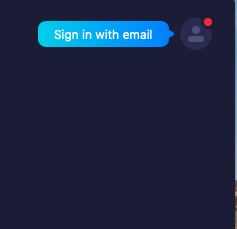 Sign Up
If you do not have an iTop VPN account, click the Create an iTop VPN Account text link below the Sign In button. Enter your email address, password, and confirm password. Then click Create Account to complete the Sign Up process.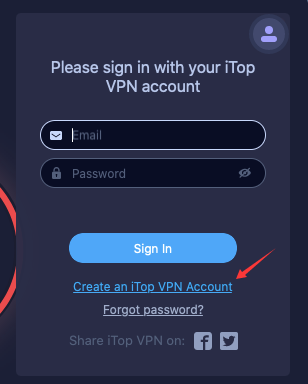 Forgot Password
If you can't remember your password when signing in, please click the Forgot Password? text link, and then follow the on-screen prompts to reset your password.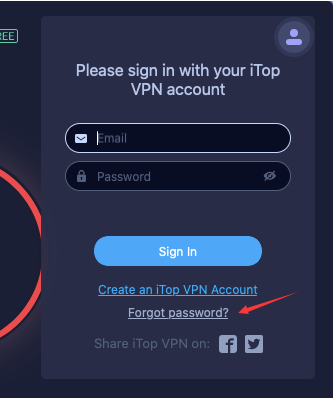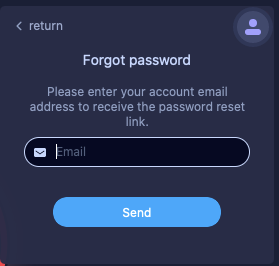 Change Password
If you need to change the password of your account, please click the Change Password text link > follow the on-screen prompts to fill in the form > click Change to save your changes.
Activation
If you already signed in iTop VPN with an account, your account will be upgraded to VIP account automatically within 30 minutes after your order is successfully processed.
In case you didn't sign in or you are still using the free version after you completed the order for one hour already, please follow the steps below to sign in with your VIP account:
1. Click here to download the latest version of iTop VPN and install it first (if you have already installed the latest version, please skip this step).
2. Open iTop VPN > click Sign in with email > on the prompted window, enter your iTop VPN account email address and password to sign in.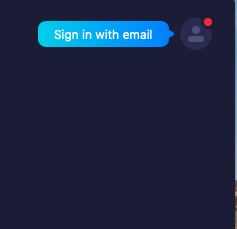 3. If you already signed in, please click Sign Out text link to sign out and sign in again.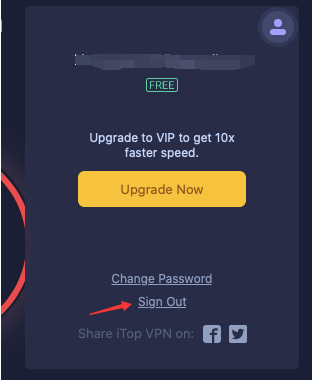 Note: If you have not signed up an account before you purchase it, an email with your account and a temporary password will be sent to you after the purchase.
Home
When you open iTop VPN, you will see the below status window.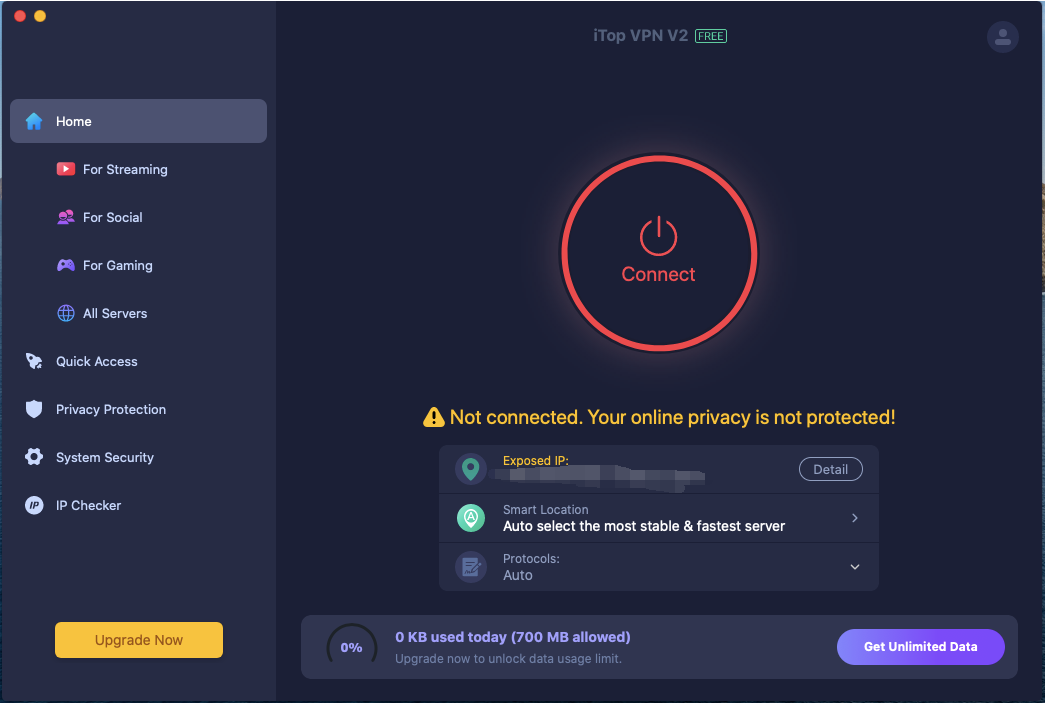 Connect to VPN
Click the big round Connect button to connect to VPN.
Exposed IP
Your real IP address will be shown here. Once you connect to VPN, it will be replaced by a virtual IP address.
Smart Location
Smart Location is a wonderful feature built into the app specifically for users who wish to have the best connection for surfing.
Protocols
Different network solutions cover all use cases. You can choose the protocols as per your needs.
For Streaming
Watch your favorite shows with iTop VPN. iTop VPN provides dedicated servers for streaming contents to deliver a fast and secure watching experience. iTop VPN replaces your IP address with the address of the server you connect to, so you can watch whatever you like.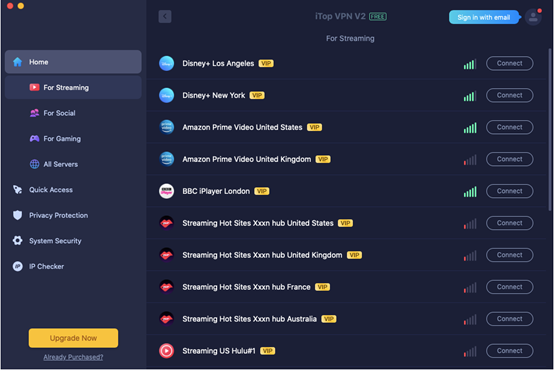 For Social
iTop VPN allows you to quickly access these social media apps including Facebook, Twitter, WhatsApp, Snapchat, Skype, Instagram, Pinterest, Tiktok, and others no matter where you are.
For Gaming
Gaming with iTop VPN is also a wonderful experience on Mac. Whether you are playing games like Roblox, Cod warzone or using Steam for Mac, iTop VPN can provide you a first-class network connection with 0-lag.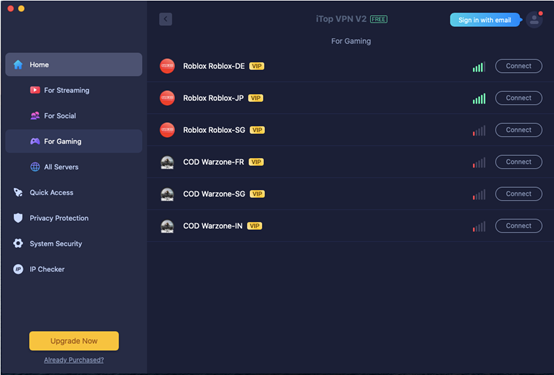 All Servers
You can view all the servers on this module. You can also search for your desired server location by using the search bar. Inside the search bar, type the name of your desired server location and then double-click the server location in the search results to connect to it.
Quick Access
iTop VPN for Mac offers you "Quick Access" to reach all the websites, games or social media platforms you love. Netflix, Disney+, Hulu, BBC iPlayer, Facebook, WhatsApp, Tiktok, and so on. You will come for what you love and stay for what you discover in the iTop VPN.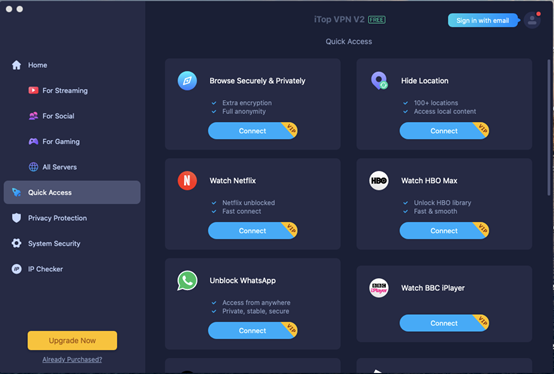 Privacy Protection
This module securely clears surfing traces on Safari and Chrome, Recent Items List, and App Traces to protect your privacy.
System Security
This module protects your Mac from various kinds of threats, and provides you with solutions to fix them and keep your Mac safe.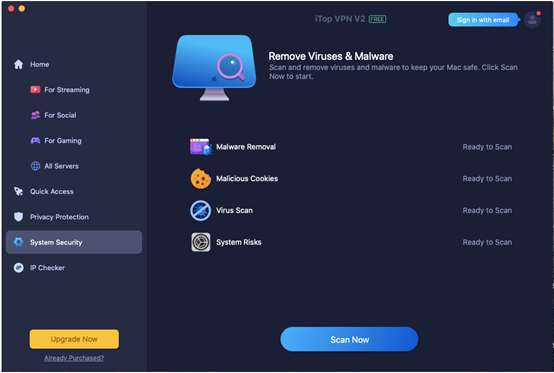 IP Checker
This module is designed to allow you to easily view the details of your IP address.
General
In Preferences you can further tweak iTop VPN to make it work even more effectively. For example, launch iTop VPN on startup and check for updates automatically.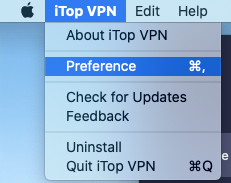 Protocols
iTop VPN for Mac rolls out 3 different protocols to meet users' demands: TCP, UDP, and HTTP. Please choose with your concrete demands.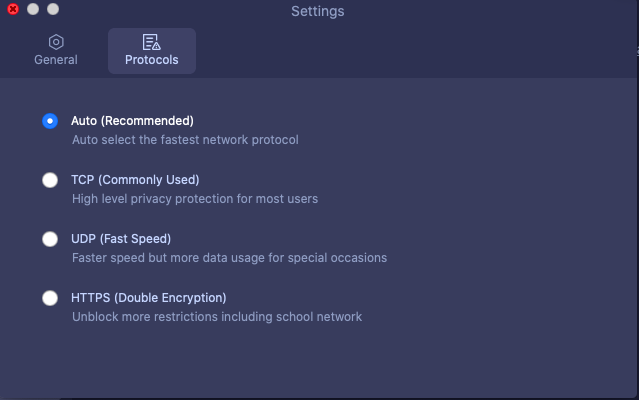 Technical Support
FAQs
It's recommended to read our FAQs before looking in the other sections for help as most issues can be resolved quickly via FAQs. You may check it first.
Built-in Feedback
If you encounter any issue, please click iTop VPN on the top Menu Bar, then click Feedback to contact us at any time.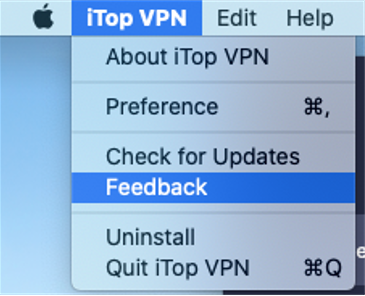 Online Feedback
If you can't find the answers on our FAQs page or fail to send feedback, please don't hesitate to contact us via Online Feedback so our support team can further assist you.