Welcome to iTop VPN
VPN (Virtual private network) is a network technology that provides a secure and encrypted connection over a public network such as Internet for its users. It can be used as a secured tunnel for network connection, where user's Internet traffic is routed with encryption. iTop VPN also creates an encrypted connection between your iOS device and one of our servers, so you can obtain an anonymous IP address located anywhere our servers are located. It allows you to stay private and secure to access the online content you want, such as some blocked websites. Besides, iTop VPN provides some useful tools to help you check the IP details, test the speed of VPN connection, and automatically connect VPN when using the specific Wi-Fi.
System Requirements
• iOS 12.2 and above
Download iTop VPN
Tap here to get it on the Apple App Store.
On the App Store, tap GET, then the iTop VPN app will be downloaded to your iOS device (sometimes you may need to touch ID or enter password to complete the installation).
Uninstall iTop VPN
Methods to remove iTop VPN from your iOS device.
1. iOS 12 and iOS 13: Tap and hold the iTop VPN icon until the app icons jiggle > tap the Close button on the app > tap Delete to remove the app.
2. iOS 14 and above: Long press the iTop VPN icon > tap Remove App > tap Delete App > tap Delete to remove the app.
iTop VPN Accounts
Currently iTop VPN has 3 types of accounts: Free, Trial, and VIP. While all accounts provide essential features as Connect Mode, Network Protocols, and Smart Location, there are still clear differences among different accounts.
Free
Free account can only access to a subset of servers, and VIP servers are not available.
Trial
All servers are available to Trial account with no data limits, but the account will expire after 3 days if the user doesn't renew it.
VIP
VIP account can enjoy all servers and is free from ads during the subscription period.
Sign In
Tap the Me tab at the bottom right side of iTop VPN screen and tap Sign In. When a Sign In window is prompted, enter your iTop VPN account email address and password to sign in.
Sign Up
If you do not have an iTop VPN account, tap Sign Up > enter your email address and password > tap Sign Up to complete the sign up process.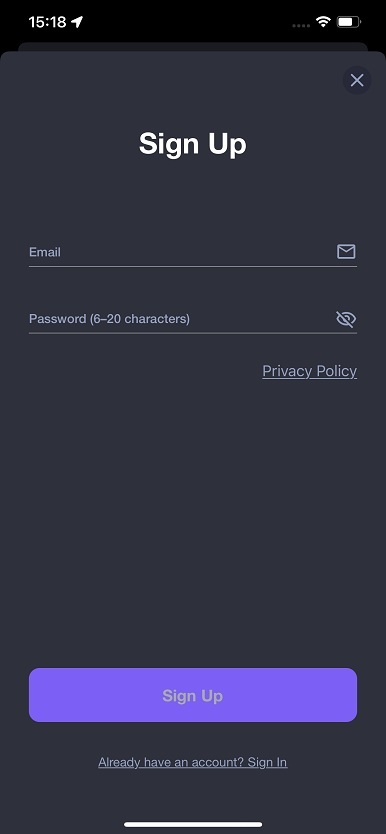 Forgot Password
If you don't remember your password when signing in, please tap the Forgot Password? text link, and then follow the on-screen prompts to reset your password.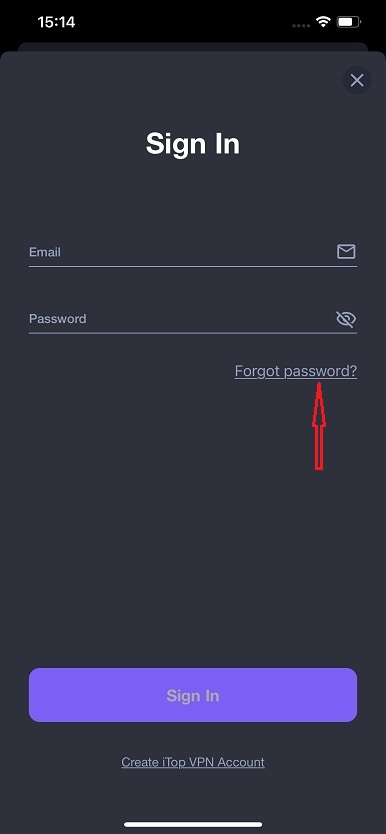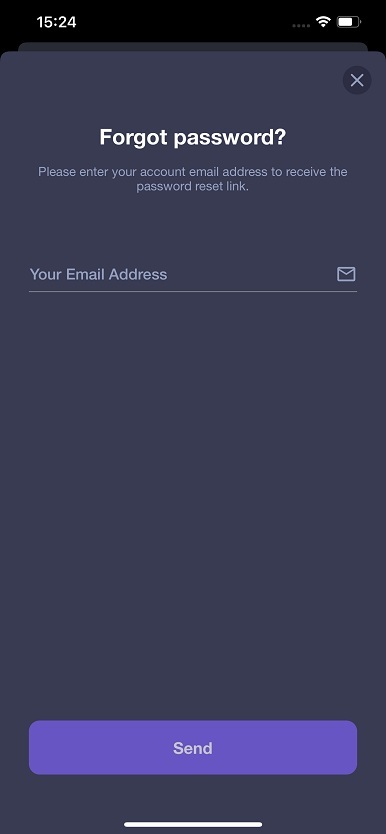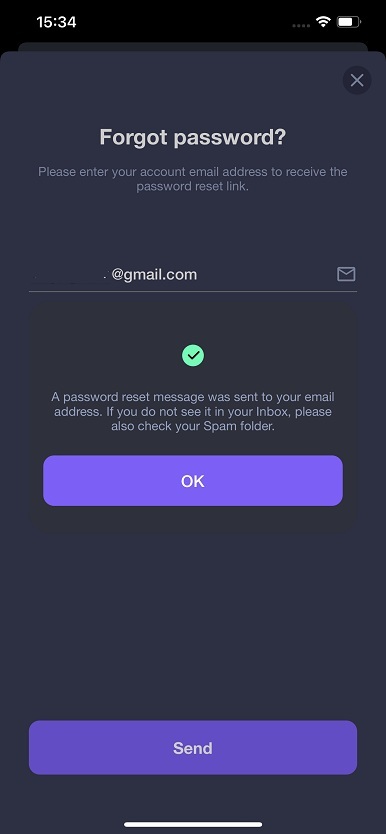 Change Password
If you need to change the password of your account, please tap Change Password > enter the current password and set a new paasword > tap OK to save your changes.
Activation
If you already signed in iTop VPN with an account, your account will be upgraded to VIP account automatically within 30 minutes after your order is successfully processed.
In case you didn't sign in or you are still using the free/trial version after you completed the order for one hour already, please follow the steps below to sign in with your VIP account:
1. Tap here to download the latest version of iTop VPN and install it first (if you have already installed the latest version, please skip this step).
2. Open iTop VPN, switch to the Me tab, and tap Sign In
If you already signed in, please tap Sign Out and then sign in again.
Note: If you have not signed up an account before you purchase it, an email with your account and a temporary password will be sent to you after the purchase. Use the information to sign in and change your password for your account security.
Connect to VPN
Tapping the green Connect button will connect to the most appropriate server automatically.
When you see the green timer, you've connected with a VPN server. You can see the virtual IP address as well as the download & upload speed.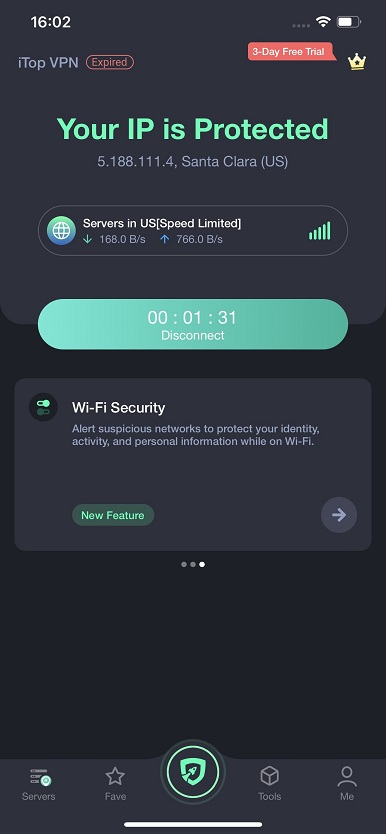 Tapping the timer to disconnect the VPN connection when you don't need a VPN.
Server List
You can view all the servers that iTop VPN supported or connect to a different server location by taping the download & upload speed area.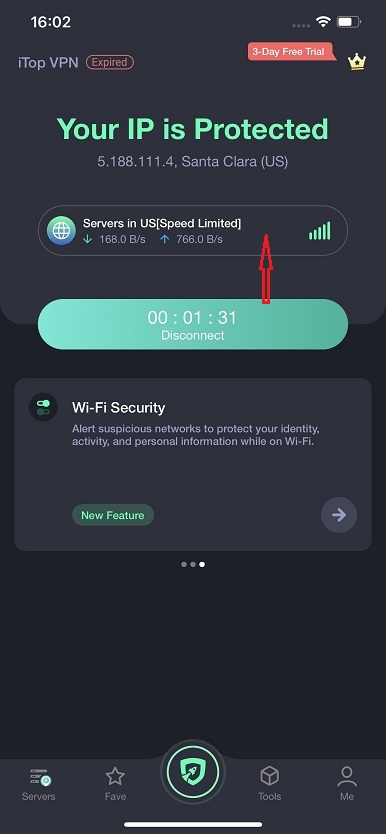 Then you will see the list of VPN locations, gaming servers, and other servers.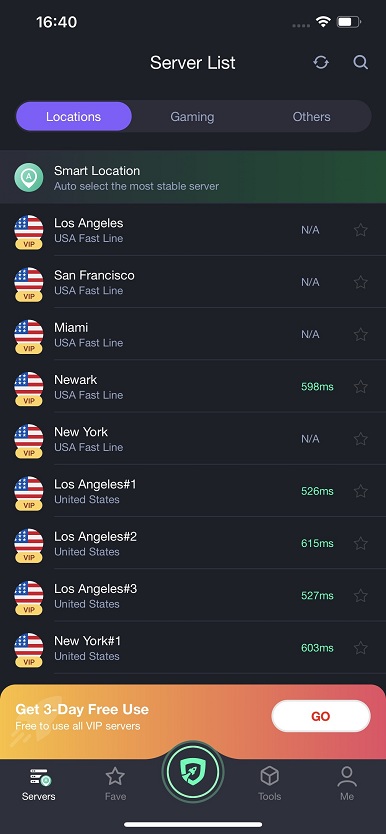 For Gaming
Gaming with iTop VPN is a wonderful experience. Freely play those region-locked games on iPhone or iPad. You'll enjoy easy, fast, and secure online-game experience.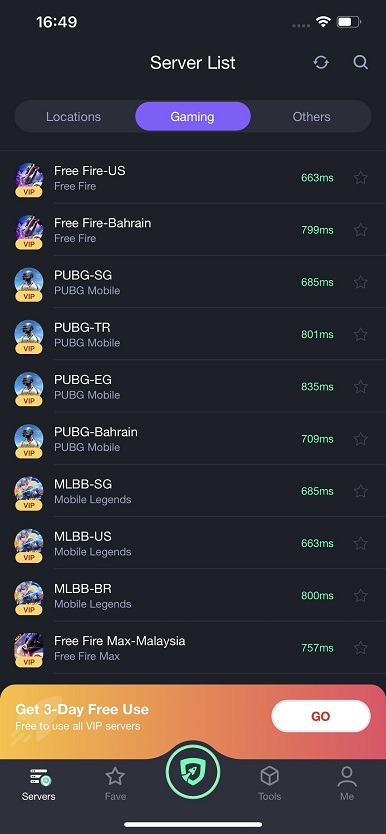 For Streaming and Social
With iTop VPN, you can connect to the global network and bypass any restrictions of favorite steaming and social apps on iPhone or iPad.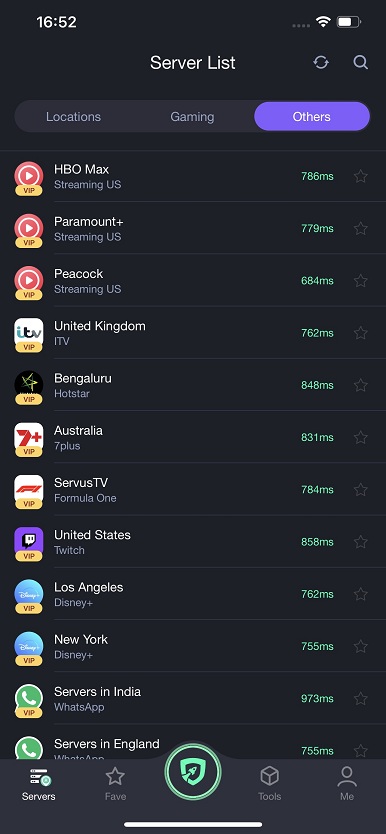 IP Checker
Check details about the current IP address.
Speed Test
Choose an item and test its download speed and PING.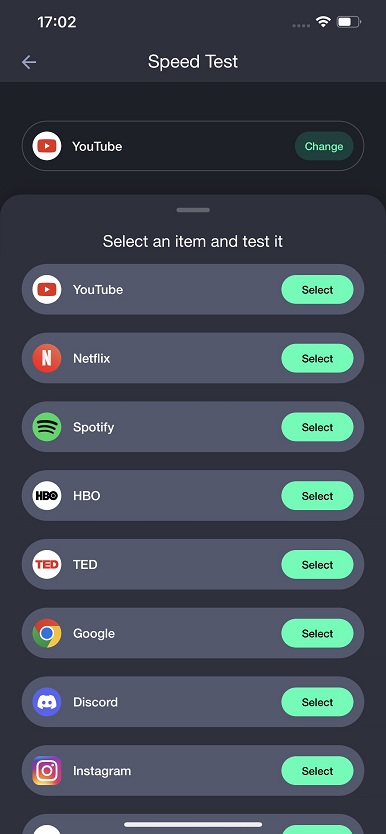 Wi-Fi Security
Alert suspicious networks to protect your online identity. It estimates based on four factors: 1) Whether the Wi-Fi is password protected; 2) Whether the Wi-Fi is protected by robust security protocols; 3) Whether the Wi-Fi has a captive portal;4) Whether there is suspicious interference detected.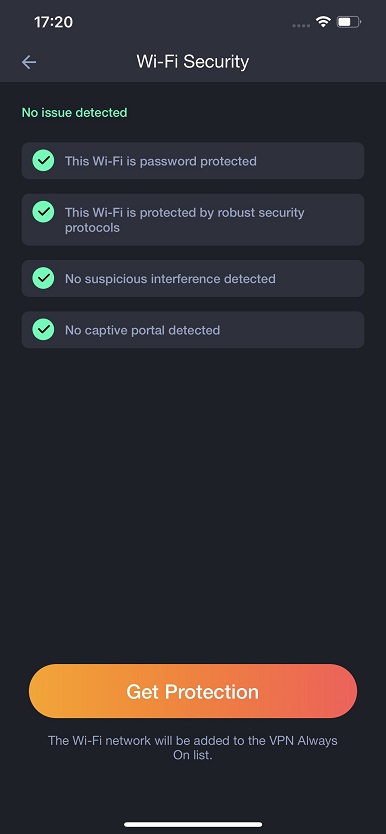 By tapping the Get Protection button, you can add the connected Wi-Fi to Trusted Network. And when you connect this trusted Wi-Fi next time, the VPN will be connected automatically.
Kill Switch
Kill Switch cuts off the connection to protect your online privacy when VPN drops.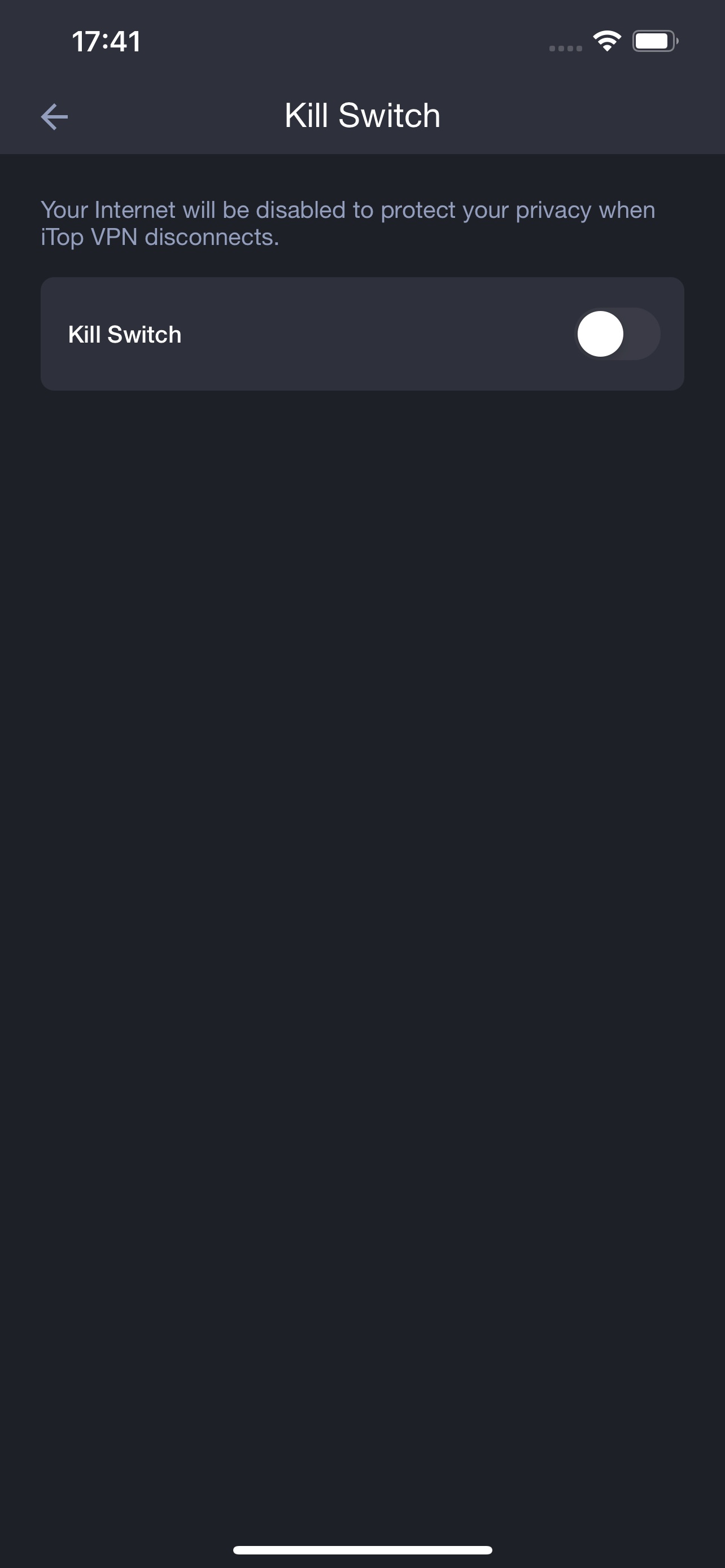 Super Ad Block
Block annoying ads and trackers for all apps that are interrupting your online privacy.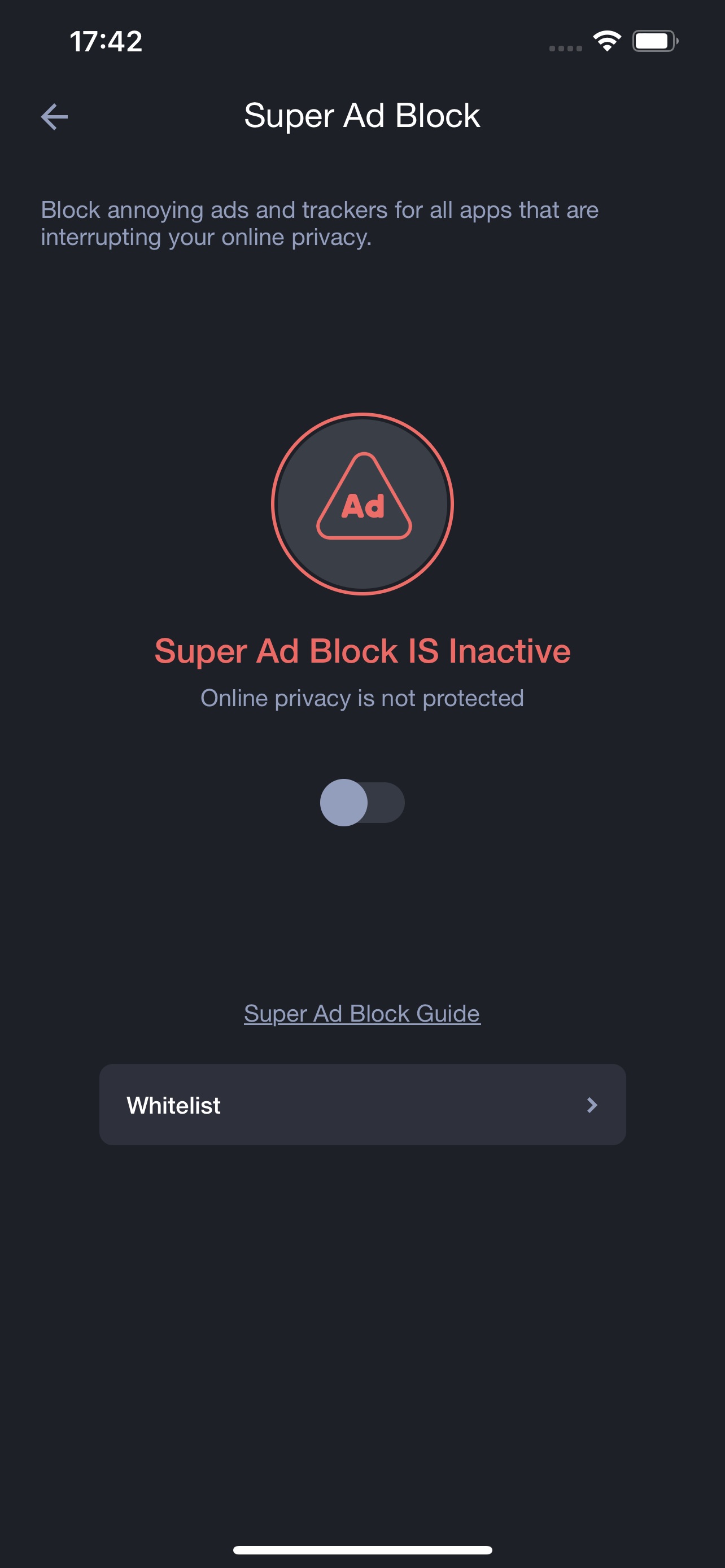 Enabling Super Ad Block will disconnet your VPN connection, so you need to reconnect your VPN manually. Please refer to the Super Ad Block guide.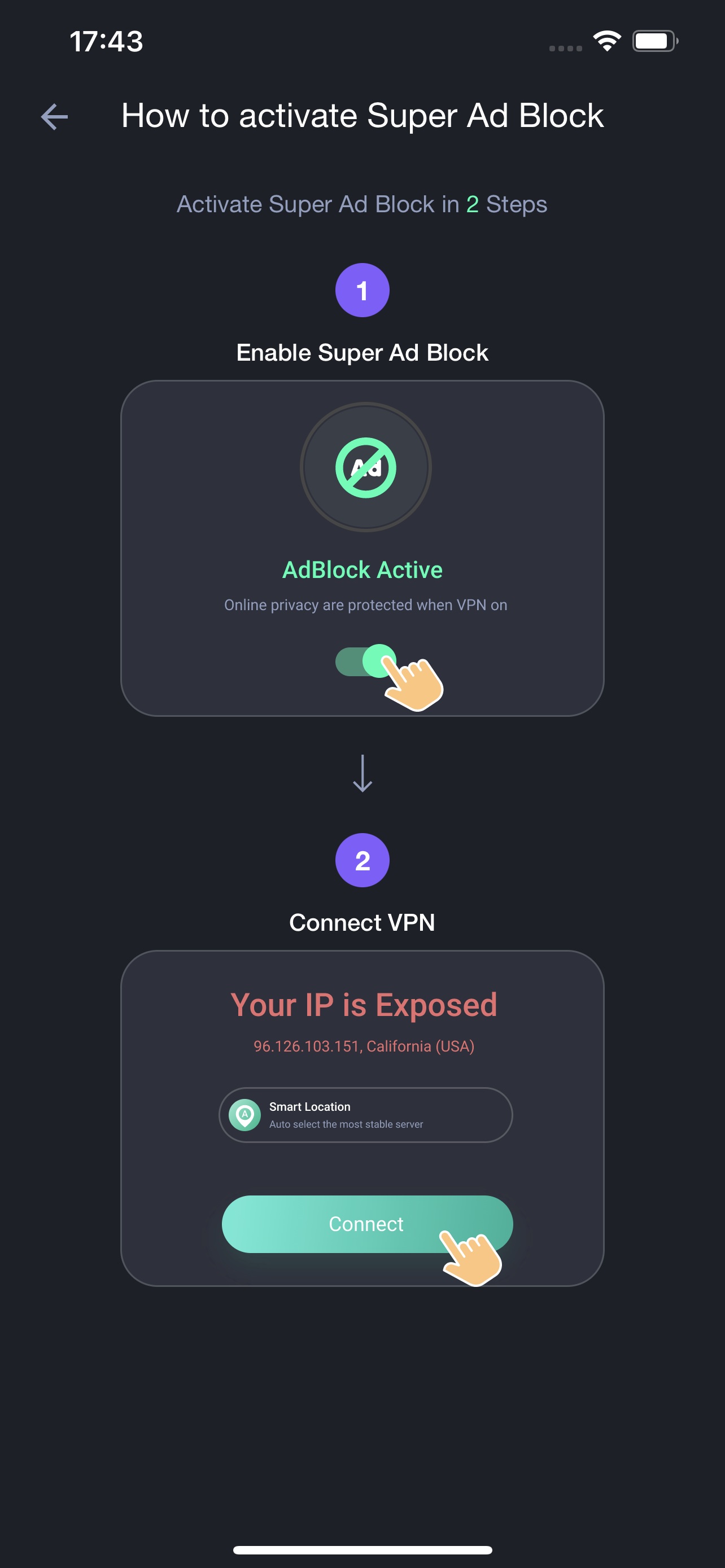 And you can also add the web domains to White-list if you allow ads for special occasions.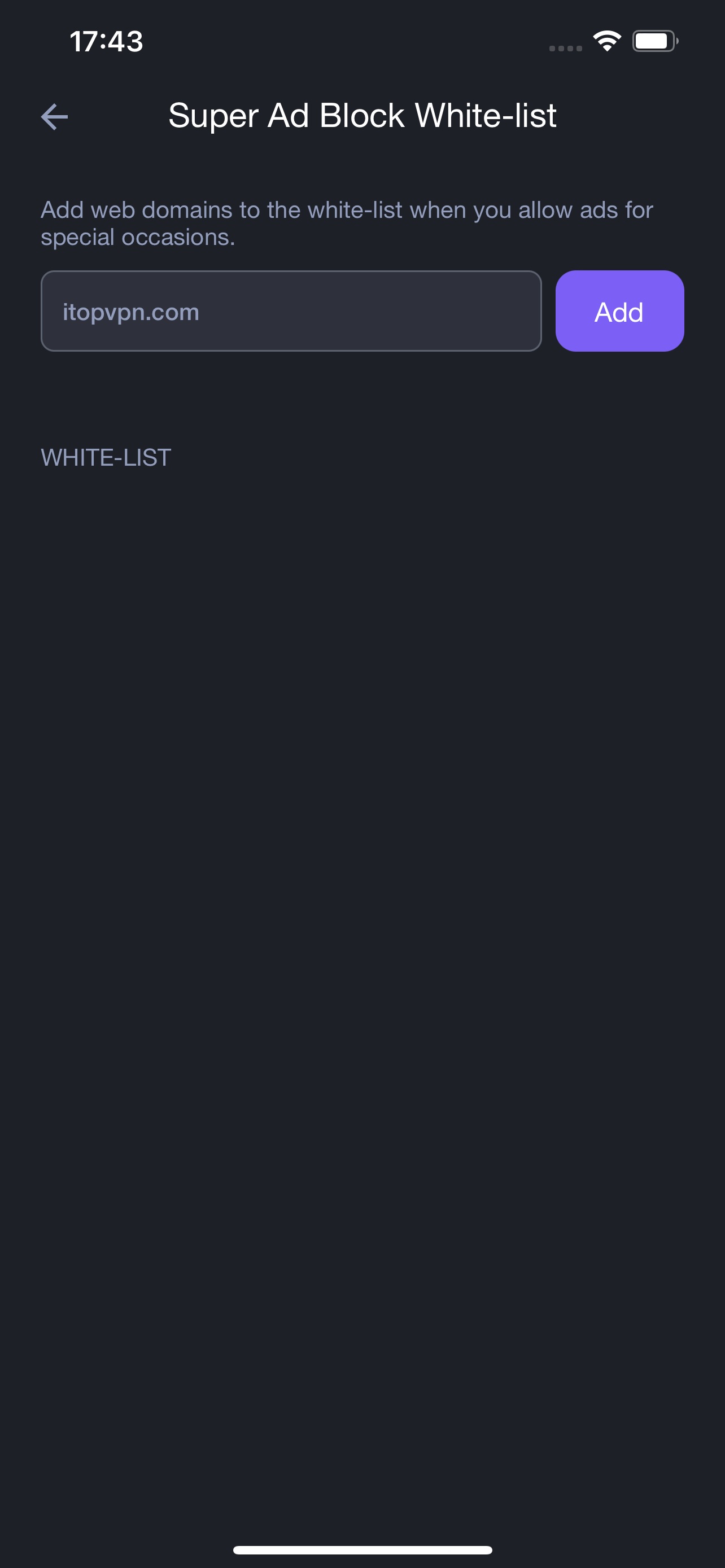 Language
To change the language on iTop VPN, tap the Me tab > tap More Settings > Tap Language > then select your preferred language.
Network Protocols
Protocols affect network speed and quality. Here we provide three modes for you: Auto, TCP and UDP. You may select the protocols according to your needs.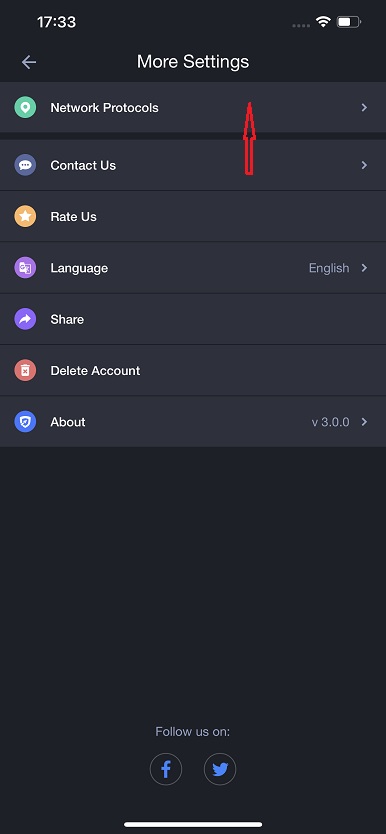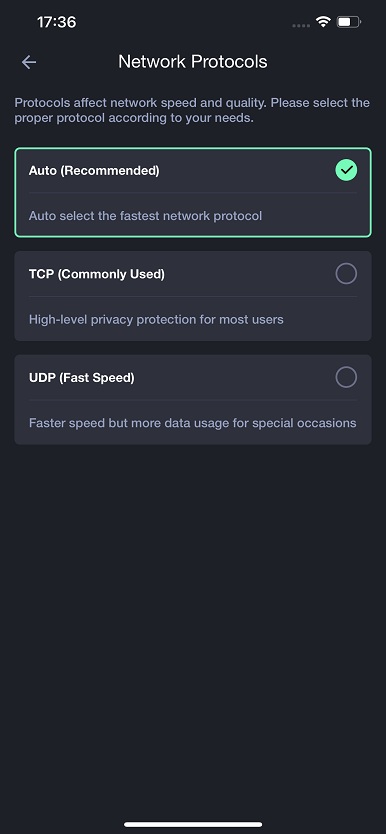 Restore Purchase
If you need to restore purchase, tap the Subscribe icon > tap Restore Purchase to restore your paid valid subscription.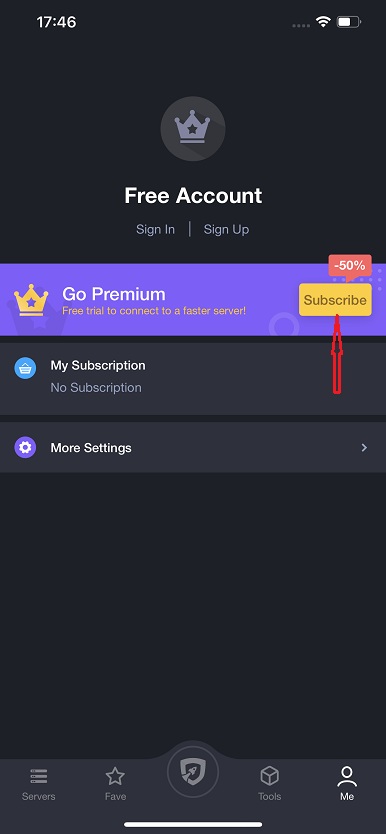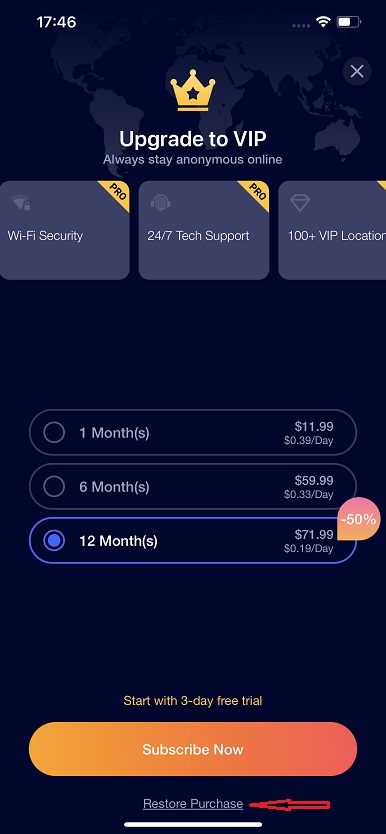 Delete Account
You can delete your iTop VPN account in the app. Please note that once deleted, your account (and your VIP subscription if any) cannot be recovered.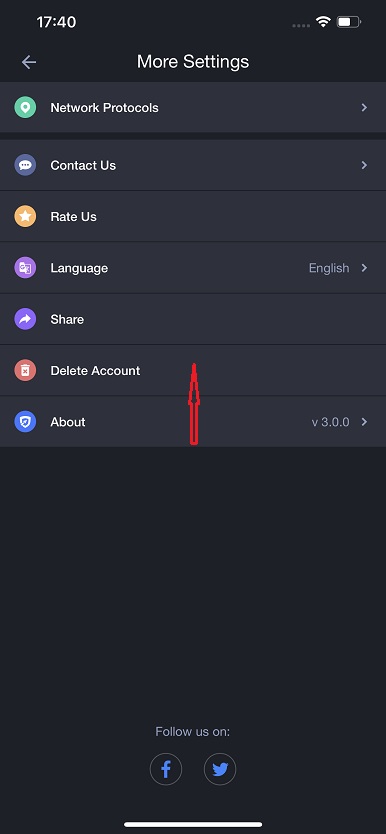 Technical Support
FAQs
It's recommended to read our FAQs before looking in the other sections for help as most issues can be resolved quickly via FAQs. You may check it first.
Built-in Feedback
Tap the Me tab, tap More Settings, then tap Contact Us to open the feedback window. Make sure to choose a proper Request type, enter your correct Email address, and specify the issue in Description, then tap the Send button to submit.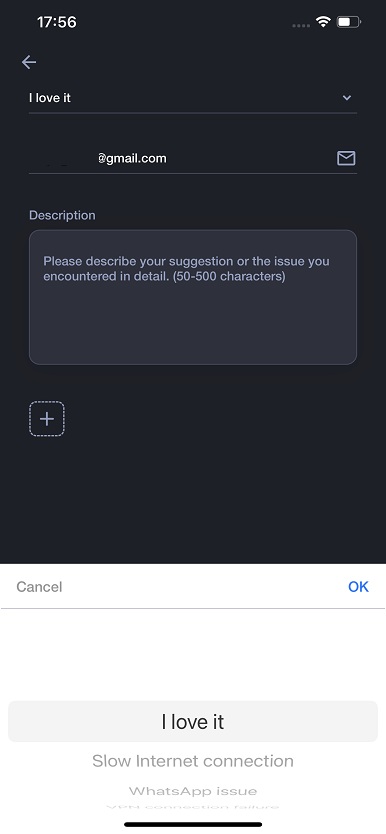 Online Feedback
If you can't find the answers on our FAQs page or fail to send feedback, please don't hesitate to contact us via Online Feedback so our support team can further assist you.