Welcome to iTop Easy Desktop
iTop Easy Desktop is a lightweight and easy-to-use desktop manager to organize your desktop icons, files, and folders according to your rules, freeing you from laboriously sorting desktop icons. It delivers various practical features including but not limited to grouping desktop items, awaking search directly, and quickly accessing icons and files even on multiple desktop pages.
The following guide will help you get familiar with iTop Easy Desktop quickly.
System Requirements
• Windows 7 and above (64-bit system only)
Download & Installation
1) Click here to download the latest version of iTop Easy Desktop.
2) Double-click the downloaded itop-easy-desktop-setup.exe to start the installation.
Update
Users can update iTop Easy Desktop by following the instruction below:
Open the main window of iTop Easy Desktop > Click About at the left panel > Click Check for updates.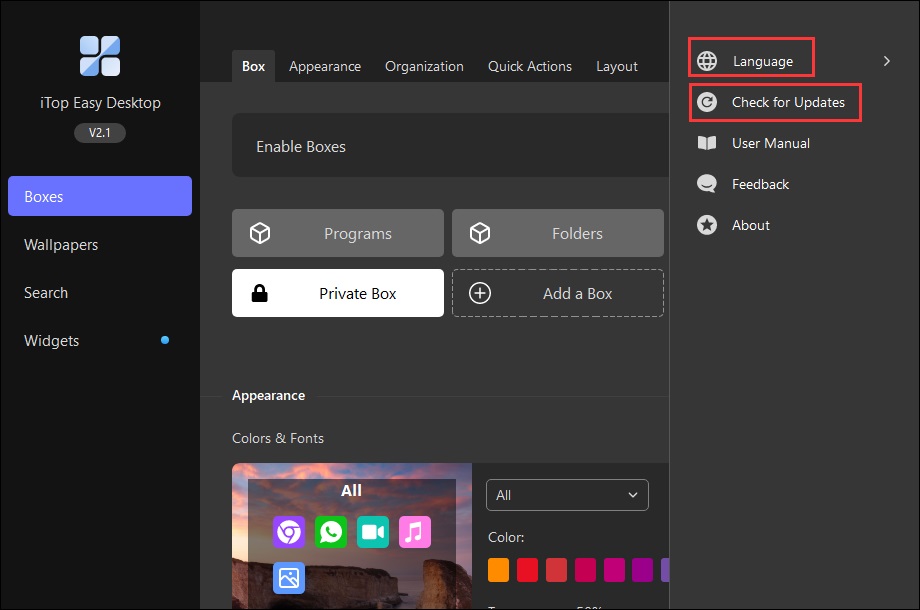 Get Started
Once iTop Easy Desktop is installed, you can see a welcome screen providing a choice to start iTop Easy Desktop with Quick start or Customize.
Quick start means all the items on the desktop will be automatically and intelligently sorted out into boxes.
Customize means all the items on the desktop will be automatically arranged and aligned to grid.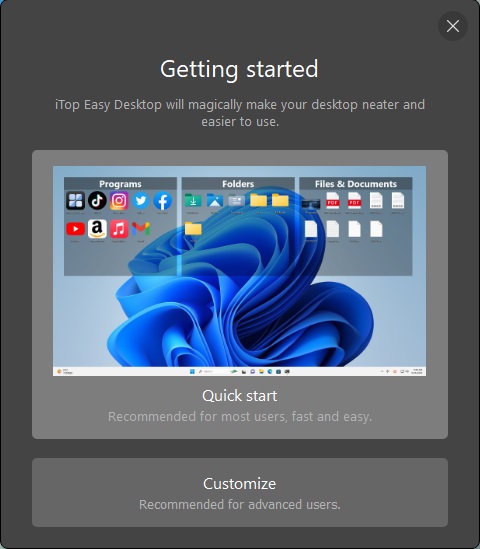 Enable iTop Easy Desktop
After you make a choice, it will show you a window with a brief guide on how to use iTop Easy Destop.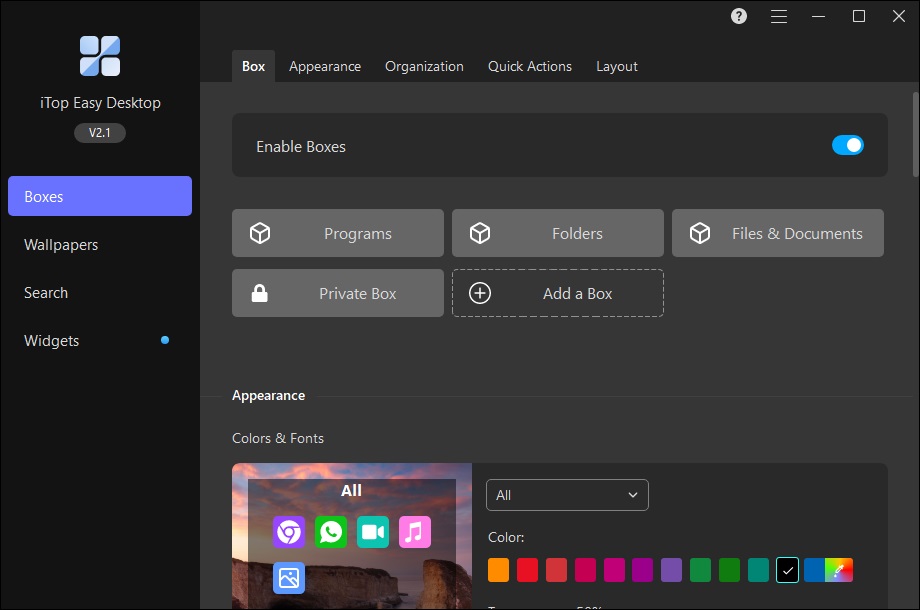 Scrolling the mouse, you will find a checkbox "Enable iTop Easy Desktop". With this checkbox ticked, you can use all the features of iTop Easy Desktop. Otherwise, all the features are unavailable.
Group Desktop Items
Basically, the shortcuts, files, folders, and icons will be sorted into boxes immediately once you enable iTop Easy Desktop, if you choose Quick start when you install iTop Easy Desktop. If you choose Customize when you install iTop Easy Desktop, you need to manually create boxes to group the items on your desktop.
In Organization, you can decide the rules of how to group the items including files, folders, images, icons, and links on your desktop.
Private Box
Private Box offers a password protection to your important files and folders. After you add the files and folders to Private Box and lock the box with passwords, you need to enter the passwords before accessing those items.
Right-click the space on your desktop > Select Enable Private Box > add the files/folder into Private Box > Lock it with a created password
After that, when you want to access the files/folders, you need to enter the password first.
Create a Box
There are three ways to create a box for items.
1. Draw a rectangle on the desktop and select Create a Box.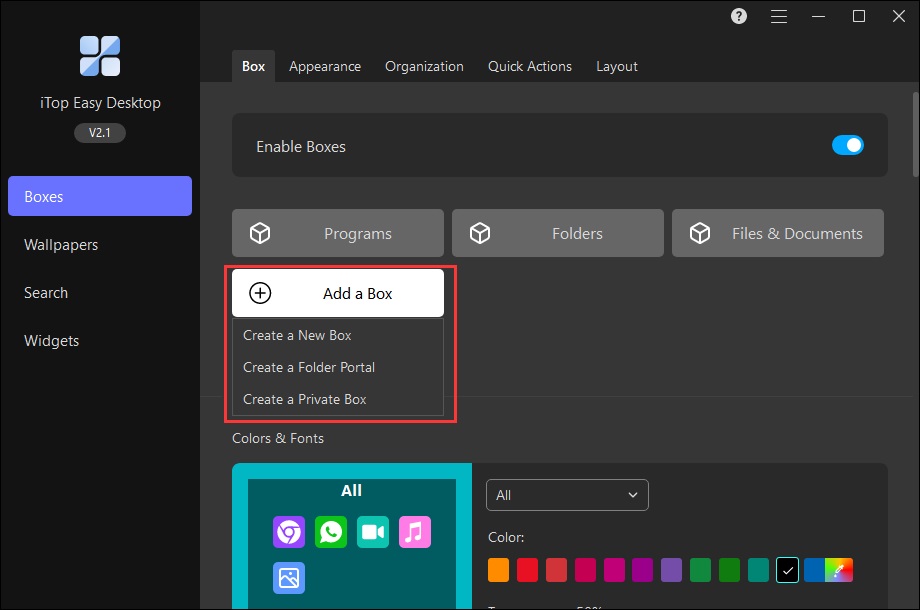 2. Right click the mouse and select Create a Box.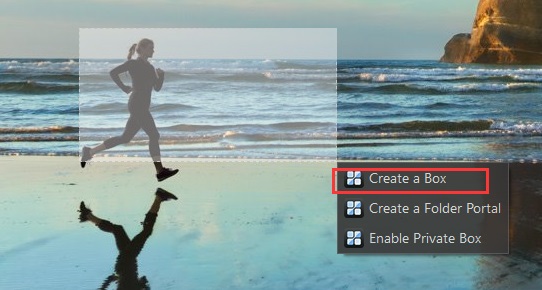 3. Select the items you want to put into a box and right click the mouse and select Create a Box for these icons.
Rename a Box
There are two ways to rename an existing box.
1. Double click the box's titlebar and you can enter the new name.
2. Click the Options icon on the top left of the box > select Rename box > enter the name.
Customize a Box
You can change the box's position by clicking on and dragging it and change the size by dragging its border. At the same time, you customize the box in Appearance, such as coloring the box and changing the fonts of the boxes' titles.
P.S: The language of iTop Easy Desktop can be changed in Appearance as well.
ChatAI
In the Search bar of iTop Easy Desktop, you can laucnch ChatAI which adopts ChatGPI to provide assistance on summary, writing, translation, knowledge quiz, code explanation, etc.
Quick Actions
There are four quick actions you need to know in iTop Easy Desktop.
1. You can double click on your desktop to hide all the desktop items or reveal them.
2. You can access boxes whenever with a hotkey. This is not available for those locked items in Private Box
3. You can start a search anytime with a hotkey.
4. If you want to access a specific folder instantly from your desktop, you can create a Folder Portal.
Note: You can exclude a box or any other items from Quick Hide and Quick Access.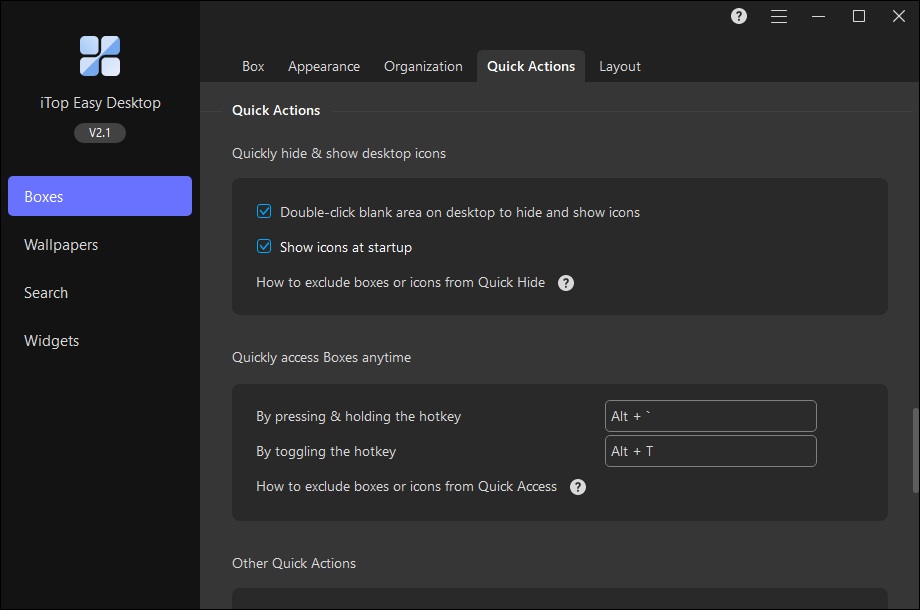 Layout
In Layout screen, you can decide the layout when the resolution is changed.
Technical Support
Feedback
Please open iTop Easy Desktop, go to the Guide panel, and click Feedback to open the Feedback page.
Thank You
Thanks to all iTop Easy Desktop users who motivated us to make this product and make it better and better.
Thanks to the following volunteer translators who greatly help improve iTop Easy Desktop and introduce it to more users worldwide:
NQH, alan@tw, Jørn Runge, Ernie Wong Lun Hing, Veikko Muurikainen, JeuMeu, Hans-Juergen Koppatz, George Vardakis, Eli Ben David, Claudio Birello, Purwo Adi Nugroho, Nagai Tsuneo, JaeHyung Lee, Normunds Jakuss, Staszek, Igor Ruckert, Fernando Santos, Виктор Алие, Ilija Komljenović, dedko58, Stanislav Rupar, Roberto Paiva, Sinan Başar, Rid Destro, Tony Nguyễn, Παλτουνιδης Χρηστος, Gátser, Bálint Csertán, Cosmin Barna, Marjan Mirai